Undergraduate Program
Undergraduates can choose from three concentrations that reflect the strengths of our program: coastal and marine geology, environmental geology, and general geology.  As a culmination of their undergraduate careers, geology majors attend a six-week summer field course in New Mexico and Colorado.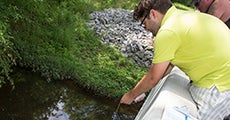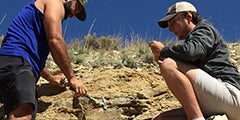 ---
A total of 120 student credit hours (s.h.) is required for graduation.
1. General education requirements – 40 s.h.
General education program information
2. Core – 42 s.h.
GEOL 1500 – Dynamic Earth
GEOL 1501 – Dynamic Earth Laboratory
GEOL 1600 – Earth and Life Through Time
GEOL 2000 – Quantitative Methods in the Geological Sciences
GEOL 3050 – Mineralogy and Petrology I
GEOL 3051 – Mineralogy and Petrology I Laboratory
GEOL 3150 – Mineralogy and Petrology II
GEOL 3151 – Mineralogy and Petrology II Laboratory
GEOL 3200 – Introduction to Field Methods
GEOL 3201 – Introduction to Field Methods
GEOL 3300 – Structural Geology
GEOL 3301 – Structural Geology Laboratory
GEOL 4000 – Summer Field Course in Geology
GEOL 4010 – Sedimentology
GEOL 4011 – Sedimentology Laboratory
GEOL 4020 – Stratigraphy
GEOL 4021 – Stratigraphy Laboratory
GEOL 4200 – Paleontology
GEOL 4201 – Paleontology Laboratory
3. Concentrations- 7 s.h.
(Choose one.)
Coastal and marine geology concentration:
(Choose 7 s.h. from the following.)

GEOL 1550 – Oceanography
GEOL 3700 – Advanced Oceanography
GEOL 5300 – Geology of Coastal Processes and Environments
GEOL 5350 – Marine Geology OR other approved GEOL courses

Environmental geology concentration:
(Choose 7 s.h. from the following.)

GEOL 1700 – Environmental Geology
GEOL 3209 – Environmental Forensics
GEOL 3210 – Environmental Forensics Laboratory
GEOL 3500 – Hydrogeology and the Environment
GEOL 5150 – The Geologic Component of Environmental Science
GEOL 5450 – Introduction to Aqueous Geochemistry
GEOL 5451 – Aqueous Geochemistry Laboratory
GEOL 5710 – Ground Water Hydrology
GEOL 5711 – Ground Water Hydrology Laboratory OR other approved GEOL courses

General geology concentration:

Choose 7 s.h. from any combination of GEOL courses. At least one course must be above 2999.
4. Cognates – 25 s.h.
CHEM 1150 – General Chemistry I
CHEM 1151 – General Chemistry Laboratory I
CHEM 1160 – General Chemistry II
CHEM 1161 – General Chemistry Laboratory II
MATH 1065 – College Algebra choose 6 S.H. of approved courses in Calculus, Statistics, and/or Computer Applications
Choose 8 s.h. of approved BIOL, CHEM, and/or PHYS courses
5. Electives to complete requirements for graduation.
Note:
Students who plan to pursue graduate degrees in geology should complete a year of physics and a year of calculus.
MINOR IN GEOLOGY DEGREE REQUIREMENTS 
GEOL 1500 (3 hours)
GEOL 1501 (1 hour)
4 s.h. of GEOL 1000-level courses
10 s.h. of GEOL courses numbered above 1999
---
General Education Natural Sciences Courses
---
Professional Licensure Disclosure Statement:
All applicable ECU academic programs prepare students to sit for licensure in North Carolina. In order to comply with U.S. Department of Education regulations regarding distance education and professional licensure ECU is required to make the following disclosure with respect to professional licensure outside the state of North Carolina. ECU cannot confirm whether a particular program meets requirements for professional licensure outside of the State of North Carolina. Please contact applicable licensure board(s) in any state you may want to pursue licensure prior to beginning the academic program in order to determine whether the program meets licensure requirements. It is the student's responsibility to confirm program eligibility for licensure in any state outside North Carolina.
Important Note to Residents Outside of North Carolina:
Admission of applicants outside the State of North Carolina to an online degree, certificate or individual online course offered by East Carolina University, is dependent on ECU's ability to secure authorization from the applicant's state of residence, if such authorization is required.
East Carolina University delivers online education programs and courses throughout the United States and internationally. All programs have been approved by the University of North Carolina General Administration. Many states have prescribed an authorization process for out-of-state institutions delivering online programs to its state residents to ensure quality post-secondary education, to preserve the integrity of an academic degree, and to instill greater consumer protection for its student citizens.
East Carolina University has taken steps to protect its students and programs through nationwide compliance by: participating in the National Council for State Authorization Reciprocity Agreements (NC-SARA); obtaining authorization, approval, exemptions and waivers; or confirming that East Carolina University can operate without such authorization because the state's laws do not pertain to a public institution, to an accredited institution, or to the ECU's activities in that state.
On November 14, 2016, East Carolina University was approved by to participate in NC-SARA which is a voluntary, regional/national approach to state oversight of postsecondary distance education. Institutions that participate in SARA are authorized to provide online education to students from all SARA member states. States and institutions that choose to become members of or participate in SARA operate under a set of policies and standards overseen by SARA and administered by the four nationally recognized regional higher education compacts.